This is a detailed guide to do Etisalat Quick Pay – Online quick bill payment without logging in using the official website of Etisalat telecom – https://www.etisalat.ae
Etisalat is a multinational telecom company based in the United Arab Emirates, owned by Emirates Telecommunication Group Company. They provide their service in 15 countries with a  customer base of around 170 million.
Etisalat Quick Pay Online
Customers can pay their bills with or without registering on the official website. Quick pay facility, without logging in is the easiest way to make online payment. Your Etisalat account number is the only required thing for using this method.
1) Follow the below link to visit the Quick pay and recharge page on the official website.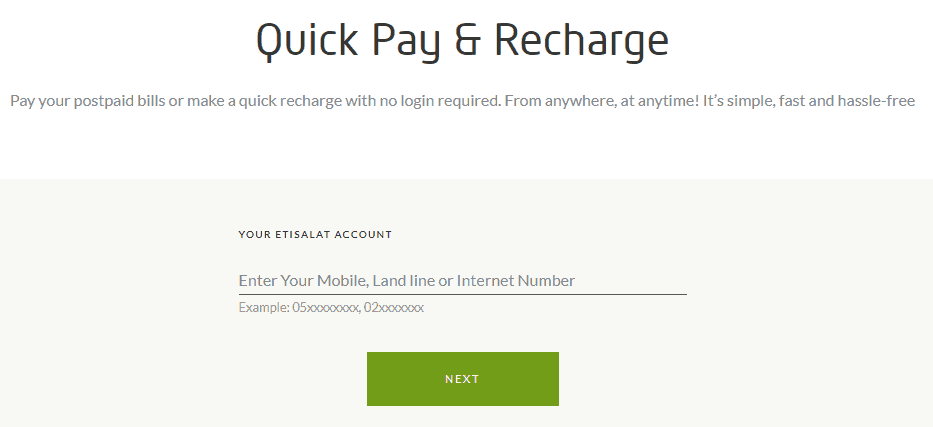 There are two options available in this page. They are,
If you are a prepaid user, select Recharge, otherwise select Pay bill for online bill payment.
---
2) There is a text box to enter your account number. After filling up your account number, you can see your payable amount. (Refer below screenshot)
If you want to pay another bill, you can do it here. For this, click Add another account and repeat the above steps.
---
3) After confirming your payable amount, click Accept & Continue to proceed.
You will be redirected to another page. In this page, you can select your payment method. Available payment methods are,
For making payment, fill up all required details like card number, card expiry, validation code etc.
---
4) After filling up your card details, click Pay.
You will be redirected to the payment page of your card. You can finalize the transaction there.
---
Etisalat customer service details
Customer service number: 00 971 400 4 44101
If you need any additional assistance, visit Etisalat Contact Page.
---
Frequently Asked Questions
Is there any safety issues for paying my Etisalat bill online?
You don't need to worry about safety as long as you use the official website of Etisalat. The website is secure and the traffic from and to the website is encrypted.
How do I check my Etisalat postpaid balance?
You can check your postpaid balance by dialing *121*1# on your cellphone.
What payment methods does Etisalat accept online?
Etisalat accepts visa and master cards for online bill payment.