This is a detailed guide to Erie Insurance Payment online using one-time pay without login through the official website: www.erieinsurance.com.
Erie Insurance Company is one of the well-known insurance companies in the United States.  Headquartered in Pennsylvania, they offer home, auto, commercial, and life insurance. They provide their service through a wide network of independent insurance agents. Fortune magazine ranked them 378th among the largest public U.S. companies in terms of revenue.
Erie Insurance Bill Payment – One-Time Payment Without Logging In
The Company provides a one-time payment facility on its website. Policyholders can use this method for making payments without registering or logging in.
1) Follow the below link to visit the One-time payment page of the official website.
Go to Erie Insurance's one-time payment page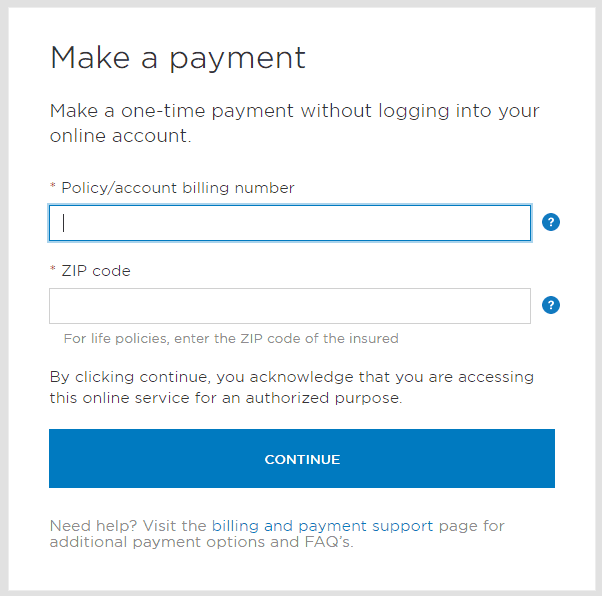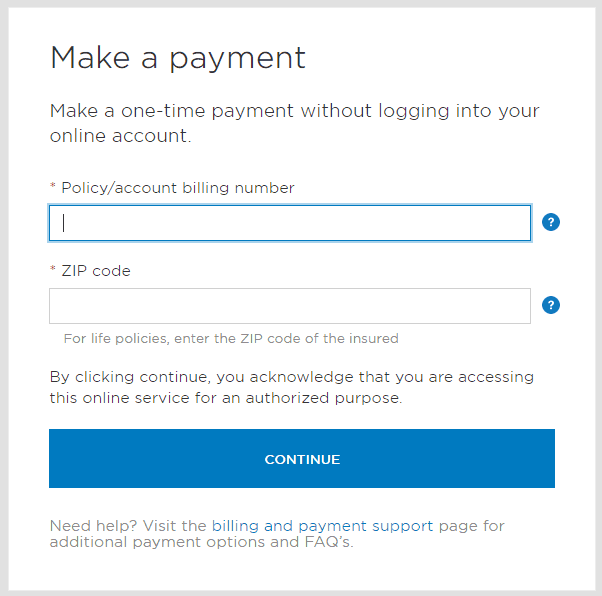 This is a screenshot of the one-time payment page. For making payment, you should fill up your policy/account billing number and your ZIP code.
---
2) After filling up the billing number and ZIP code, click Continue.
On the next page, you can see your minimum due amount and due date. You can make extra payments also, for this, take a look at the drop-down list marked (1) in the screenshot. In that list, you can select either,
Your minimum due amount
Your total due amount
Different amount
For making an advance payment, select a different amount and type the amount there.
Payment methods
There are three methods available. They are,
Checking account
Card
Savings
You can select your payment method from here.
E-mail address
This is optional, but if you fill this up you will get a payment confirmation via email after the successful completion of the payment.
---
3) After filling up all the necessary details, click Continue.
You will be redirected to the payment page of the payment method you selected earlier. You can finalize your payment there. If you filled in your e-mail address, you will get a payment confirmation e-mail after completing the payment.
---
Frequently Asked Questions
How do I contact Erie insurance customer care?
You can contact Erie insurance customer care either by using their website or by calling their customer service number.
Customer service phone number: (800) 367-3743
Contact page: https://www.erieinsurance.com/contact-erie
How do I make changes to a payment or cancel a payment?
You cannot make changes or cancel the payment that is already done. For this, you have to contact Erie customer service after making the payment.
Where can I pay my Erie insurance bill?
Apart from one-time online payment, you can make the payment by phone, by person, or by mail.
Can I schedule Erie insurance bill payments?
Yes, you can schedule payments by signing up for any of the automatic payment options available with Erie insurance. Available options are,
Automatic Payments
ERIExpressPay
Check Matic
Is it possible to pay the insurance premium without logging in to my account?
Surely, but not in all cases. Some companies offer this service giving the nickname "quick pay" or "easy pay". If your insurance company offers this service, you can use it easily. In some cases, companies charge extra money for making bill payments online without logging in. For making a payment to Erie insurance, you can use both without paying any extra money, in the case of Erie Insurance, the nickname is "one-time payment." You can always register your account with Erie insurance and make the payment after logging in to your account. URLs for registering your account and logging in are given below.
Erie Insurance contact number : (800) 458-0811
If you need any additional information, just visit the Erie Insurance contact page.