This is a detailed guide for ADDC online bill payment. Quick pay Abu Dhabi Distribution Company water and electricity bill without login – www.addc.ae
Abu Dhabi Distribution Company – ADDC, based in Abu Dhabi, was founded in 1998. ADDC is a subsidiary of Abu Dhabi Power Corporation and operates under the Department of Energy. They distribute water and electricity to approx. 216000 customers in Abu Dhabi.
ADDC Bill Payment Online – Quick Pay
Abu Dhabi Distribution Company provides a quick pay facility to its consumers to make ADDC online bill payments without registering and logging in. For using this facility, the only mandatory detail to be provided is the account number.
1) Follow the below link to visit the Quick Pay page of the official website of Abu Dhabi Distribution Company.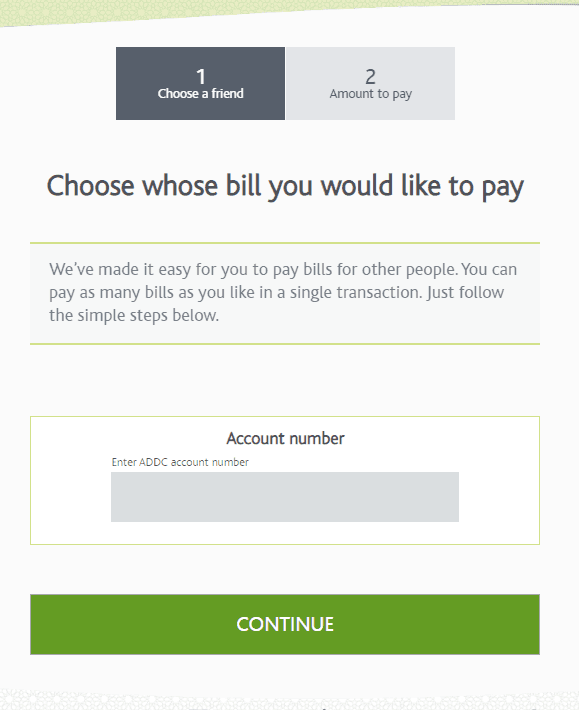 This is the screenshot of ADDC quick pay page. For making ADDC online bill payment, you have to fill up your ADDC account number here.
---
2) After filling up the account number, click Continue.
On the next page, you can see your payable amount. If you want to change the amount, click on the 'pencil' image next to the amount and change it.
---
3) After confirming the amount to pay, click Continue.
You will be redirected to another page. In this page, you can select your payment method. Currently, the only available methods are master/visa cards. Select the card type you want to use and fill up card details.
---
4) After filling up all required details, click Pay.
You will be redirected to the payment page of the visa/master card. You can finalize ADDC online bill payment there.
---
Frequently Asked Questions
How can I contact ADDC customer service?
You can contact customer service by calling their customer service phone number or by using the contact page on their website.
Customer service number: +971 2419 1100
Contact page: https://www.addc.ae/en-US/Home/Pages/ContactUs.aspx
Do I need my account number to create an online account in the ADDC website?
Yes, you need your account number to create an online account. You can find it in the printed bill you have received from ADDC. If you couldn't find your account number, there is another option to create your account on the ADDC website using your emirates ID, you can use that for account creation.
Do I need an online account to receive electronic bills?
No, you don't have to register an account for receiving electronic bills. Make a call to their customer service and ask for the same. That's all you have to do for receiving bills in your e-mail.