This is a detailed guide for  Telstra online bill payment without registering and logging in using quick pay facility in official website – telstra.com.au/paymybill
Telstra Corporation Limited is the largest telecom company in Australia. Headquartered at Melbourne – Australia, they serve fixed-line and mobile telephony, Internet, data services, network services, and Pay TV throughout Australia.
Telstra corporation provides an easy pay facility for online bill payment on their website. Customers can pay their bill using this facility without registering and logging in. Only details needed for online bill payment are,
Account number
Bill number
1) Follow the below link to visit bill payment page.
Go to Telstra Online bill payment page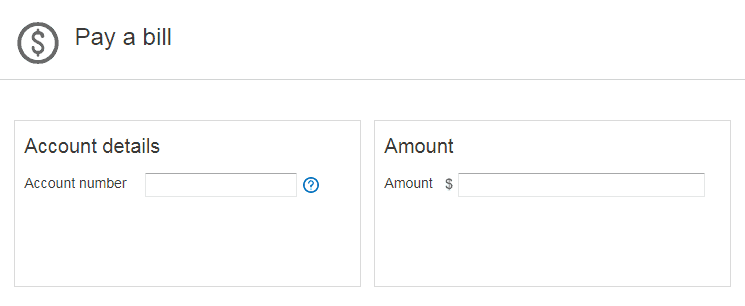 This is the screenshot of the bill payment page. For paying your bill, you have to fill up your account number, bill number and amount.
2) After filling up the above details, select the payment method.
Next, fill up your e-mail address. This is for receiving confirmation after successful completion of bill payment.
3) After filling up all the details, click Next.
On the next page, fill up your payment related details. You can also change your payment method from here by clicking Edit Details.
4) After filling up, click Submit.
You will be redirected to the payment page of your card/bank whichever method you selected earlier. You can finalize your payment from there.
After successful completion of payment, you will receive a confirmation e-mail to the e-mail id you have submitted earlier.
Frequently Asked Questions about Telstra Bill Pay Online
Everybody says making payments online is not safe, is it true?
You don't need to worry about safety on the internet as long as you use your utility company's official website or any other reputed online bill pay services for making your payment. Here, in this guide, we use the official website  — https://www.my.telstra.com.au is used as an example
Is it possible to pay utility bills without registering or logging in to my account?
Surely, most of the companies offer this service giving a nickname "quick pay" or "easy pay". If your utility company offer this service, you can use it easily. You can always register your account and make the payment after logging in to your account. URLs for registering your account and logging in are given below.
Can I use my smartphone to pay my utility bills?
Surely, you can use your mobile phone or tablet for making online utility bill payment. Some companies provide mobile apps also for managing account.
What do I do if I forget my user id or password?
Do not worry, there will be a link in the login page to reset your password. Use that, if it does not help, you can contact customer care.
My payment failed, what is the next step?
It happens, there are various reasons behind that, first of all, check your bank account or credit card statement whichever method you use to make payment. If the money is debited, check your bill payment status. If it is showing unpaid, contact customer service. Customer service details are given below.
Telstra contact number : 00 852 3192 7420
If you need any additional assistance, just visit the contact page.